Maintaining a routine while your on holiday can be difficult, however you can still relax the rules and feed your children healthy meals and snacks. While away on holidays and away from my kitchen, I've picked up some handy tips throughout the years on how to stay healthy (or healthier!) with the kids on holidays.


Order from the main menu
You may as well be dining at a chipper every night if you were to choose from the kid's menu. It is easy to avoid children's menus; simply order an adult meal to divide between two children. If it comes with a side or salad your child mightn't like, ask for it on the side so they can try it, or to swap for another side. This will avoid your child reacting negatively when the food comes to the table.

Furthermore, be careful that the meal does not include crisps. We got caught out a few times when lunch arrived and there was a plate of crisps and guess what they wanted first! So always ask what the meal includes.


Be more adventurous
Holidays are a great time to get your children to try some new foods, especially if you are visiting a different country. My girls love trying new foods, and while we were away they tried some fish dishes that they might not have tried before. We also took them to an Indian restaurant, which was a great experience. They may not have liked everything but it was fun to try it!

Don't be afraid to try something different, there will almost always be something less exquisite on the menu your child is bound to like should they be a bit fussier.


Refusing to eat in an unfamiliar environment
We did have an occasion where my 3 year old refused to eat what was on offer. This is totally normal; the key is not to let it get to you. If they refuse, just take it away with little fuss.

Children are out of their routine with sleep and meal times so it's important to allow for this. Most restaurants will make up a dish of plain pasta with a tomato sauce or grilled chicken, so don't get frustrated! Your kids will be less likely to accept something new if they feel a negative or frustrated environment. On this occasion however, all she wanted to do was sleep!


Pack healthy snacks
We spent a lot of time traveling from one town to another as well as some boat trips. It was really important to have some healthy snacks with us as an alternative to sweets or crisps. This is where my portion pots came in really handy for packed lunches and fruit & nuts.

Whip up some easy snacks to bring along if you are out and about for the day. A favourite with my girls are these Banana Berry Muffins, great to bring along in a Double Child Portion Pot for a tasty baby led weaning snack your family will love you for.
Be prepared to relax the rules
Things don't always go to plan so don't stress if bedtimes get delayed or meal times aren't on time. We ate plenty of ice cream but I was careful to ask for a very small portion. I always made sure the ice cream was after dinner or at about 3pm so that they would be hungry enough again for dinner.

It is okay treat yourself and the kids, so relax and just remember not to go overboard because you don't want any upset tummies.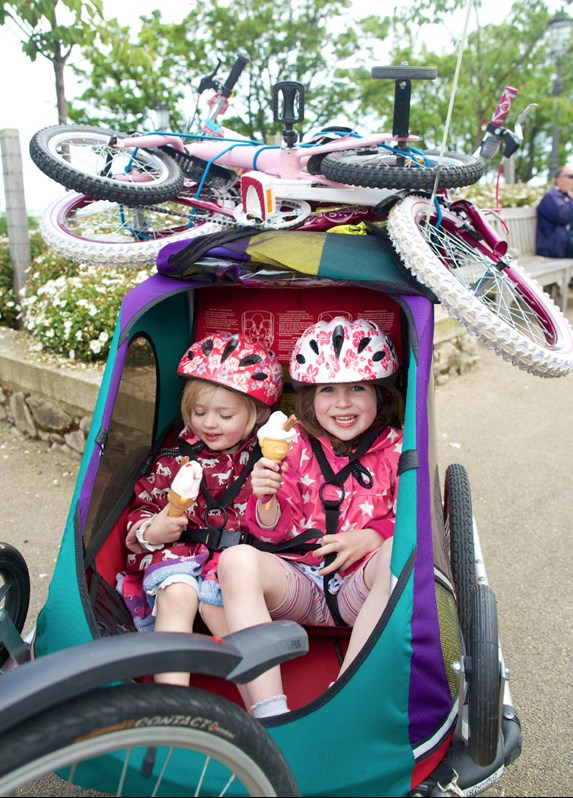 Happy Holiday :)