Nutritionist Kate Gleeson from Wyldsson shares her top tips for afternoon snacking with the kids with us:

The kids are in from school after a long day. They are hungry but dinner is a long way off. Trying to get them to eat something healthy can be difficult at the best of times, but what if that healthy option isn't the nutritionally balanced snack you think it is? Most snacks are packed full of sugar without us even realising. This is because manufacturers call sugar by lots of different names so that they can spread it out in the ingredients list.

For example, one popular shop-bought granola bar is made up of 8 ingredients, but 3 of these are a form of sugar!  The first is sugar, followed by honey, and the third is molasses. Shop-bought granola bars don't have much else to offer nutrition wise. Most of them contain very little protein and fibre, which are key to keeping us feeling fuller for longer.

Sugar is quickly broken down by the body to give a sudden burst of energy. Once it's gone, energy levels plummet. Blood sugar levels also play a role in mood so sugar spikes could contribute to tantrums and outbursts. Flavoured yogurts are another favourite afternoon snack, but looking at the label of a particular one marketed towards children showed it contains more than 6 teaspoons of sugar! Definitely not healthy and nutritious, as the label may lead you to believe.

Here are some great alternatives to snack on:


Nut butter & fruit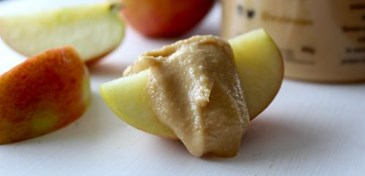 This is a great snack because the nut butter is full of fibre to keep them feeling full & the fruit is one of their five a day. It can be eaten on the go & doesn't need to be kept in the fridge. Try slices of apple, banana or carrot with nut butter. Why not prepare some fresh fruit and vegetable slices and store in portions using the Toddler Pot from the Family Portion Set for a quick and healthy snack during the week.


Greek Yogurt
Greek yogurt is strained so a lot of the natural sugars found in dairy have been removed. It's a great source of protein for healthy bone growth and development too. Sprinkle some fruit, nuts and seeds on top to add some crunch!


Flapjacks
Flapjacks are the ultimate snack to curb hunger and fill them up until dinner. Whether they're chewy, crunchy or crumbly – they're a firm favourite with kids and adults alike. Beware of sugars and other added junk in ingredients lists though. Our bake-at-home bar mix makes about 12 flapjacks that are perfect for keeping your little ones full until dinner with no added sugar, sweeteners or preservatives. Prepare a batch and store in a Adult Portion Pot for a tasty snack that will keep for up to one week.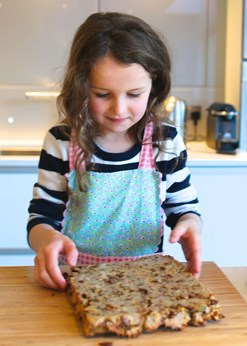 More information on Wyldsson's bake-at–home bar mix and other healthy snacks can be found at www.wyldsson.com