If you are struggling to find the perfect alternative gift for a friend or relative, get them something they will use time and time again! Our range of Mummy Cooks Gift Sets are the perfect alternative gift for any occasion. From portion control and batch cooking healthy homemade food, to keeping healthy on the go with snacks and homemade hot or cold food, we have everything you need for the perfect alternative gift worth giving.
Weaning and Beyond
Our range of Weaning Gift Sets are the perfect alternative gift; setting parents up for success to raise healthy, happy and adventurous eaters.
From our Starter Weaning Gift Set to our Baby Led Weaning Set we have the perfect gift for a new or first time mums to take the stress out of weaning their baby on to solid foods!  Our sets include a range of reusable portion pots perfect for batch cooking, storing food or carrying snacks as well as a food flask to enjoy hot/cold meals on the go.
Look no further, our weaning sets are perfect alternative gift for birthdays, christenings and even Christmas!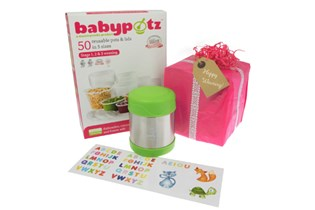 Ideal for Busy Mums
Family life can be hectic so make life a little easier with a gift they will use time and time again!

Our Family Gift Set makes the perfect gift for busy parents to take the stress out of family meal times. Packed with 50 assorted portioned pots ideal for batch cooking and storing healthy meals, and two insulated flasks perfect for school, work or homemade healthy lunches on the go! Give a gift they will love to make fuss free family cooking easier than ever!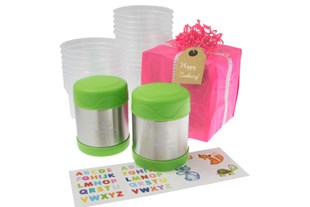 Happy Adventurous Eaters
We all know how difficult it can be to introduce new foods at family meal times, especially with younger or fussy eaters. Take the stress out of family makes and help to raise happy, adventurous eaters with the Toddler Gift Set! Perfect to offer or store homemade adventurous finger foods to bring on the go, or for healthy homemade sauces. Trust us, they will thank you for it! The flask makes it easy to get adventurous with new foods on the go too!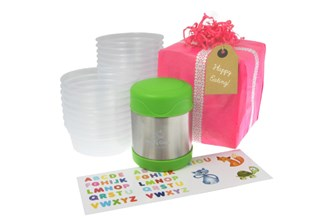 Our range of Gift Sets are so versatile, so whether it's their first child or their fifth, your gift will be used time and time again to batch cook or store healthy family meals, snacks or cupboard staples! Make busier days less stressful with a gift they will love you for.