Customer Reviews
10/01/2020
Nadine L.
Ireland
Bought as a gift for a friend
Delivery was very quick and my friend was very appreciative of the weaning kit to start them off. They loved the cookbook and found it very useful since the weaning process is a bit daunting for a first time parent! Had purchased the weaning pots, temperature spoon, flask and lunch bag which they found very useful. Would purchase as a gift again.
09/17/2020
Morwenna
Ireland
Great, practical book
The baby and family book is great and I regularly recommend it to my friends. The recipes are so tasty and very straight forward.... No long lists of ingredients you've never heard of!! Any recipe that might take a little longer is highlighted and the guide on what age the meals are suitable from are very helpful. It's been so much easier being able to cook meals for all three of us. Any of the meals we've tried (which is quite a lot at this stage) have been delicious! Definitely recommend this book for any family with babies.
09/09/2020
Meggan B.
Ireland
Good
I liked the whole book, i wish i got it before starting the weaning process.
09/02/2020
Stephanie J.
Ireland
Feedback
Your cookbook and super organised tuppaware system has been a literal foot up and lifesaver! I've loved the whole weaning process so far, thank you so much. My freezer is stocked up with lovely variety, allowing my baby to have wonderful nutritious foods daily, and I don't need to cook daily! Thank you mummy cooks x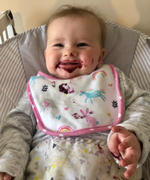 07/08/2020
Ruth
Ireland
Fantastic Book
Since I got your book, it has made the cooking process enjoyable, never thought I would be cooking my baby's first foods. Love the simplicity of the book and the ingredients are easily sourced. Started off with your famous Coconut Chicken Curry which went down a treat & looking forward to cooking some more dishes. Well done.